It's Spring time in Umberto and here is the new Spring Menu.
Spring has come and Umberto Restaurant changed its old winter menu. The Spring Menu is composed by fresh dishes of the neapolitan traditional cusine, where you could find new, fresh and sea flavours.
It is no coincidence that you will find in our new spring menu among the appetizers the tasty anchovies in Kiev, while among the first courses of fish you will find Umberto will brighten your palate with the delicate Pappardelle Verde Mare, a typical Italian size of pasta. Among the main courses of this spring menu there is certainly the cut of Filetto di Manzo, which is served with rocket, tomatoes and flakes of Parmesan. Finally, as far as spring can give us, Umberto 1916 has replaced its delicious chocolate Caprese with Caprese al Limone and Almonds. Come to visit us!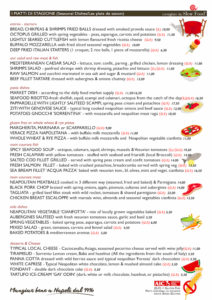 Tags: