Winter menù: seasonal ingredient are used by our chefs:  
Mediterranean cous cous with vegetables and octopus, vegetarian pie, with potatoes, aubergine.
Taste our smoked provola tortino, buffalo mozzarella with fried sliced seasonal vegetables, mediterranean caesar salad, cruncy fried shrimps in corn flour with Pink Cocktail sauce and lettuce, velvety neapolitan pumpkin & potatoes soup with buffalo blue cheese and croutons could be your choice between starters and salad! Don't miss the typical winter 'minestra maritata', that represent the marriage between seven winter green vegetables and meat (pork, beef and chicken). Pasta will be 'pasta alla natalina' typical Christmas pasta, seafood risotto with fresh shelfish, squid, scampi and calamari, octopus from the catch of the day, Linguine with friarielli, squid, local red shrimps and vesuvian tomatoes, and ziti with genovese sauce, typical long cooked neapolitan onions and beef sauce.
As main we suggest spicy seafood soup, salted cod, meatballs cooked in 3 different way (steamed, fried and baked) & Friarielli or Pork loin stuffed with cheese, friarielli and bacon braised with fiano wine & mushed potatoes. You must conclude the meal with Tiramisud, our speciality, all made with ingredients from the South of Italy, or Pastiera or babà. Ice cream tartufo could be also a very good choice!!
HERE IS OUR WINTER MENU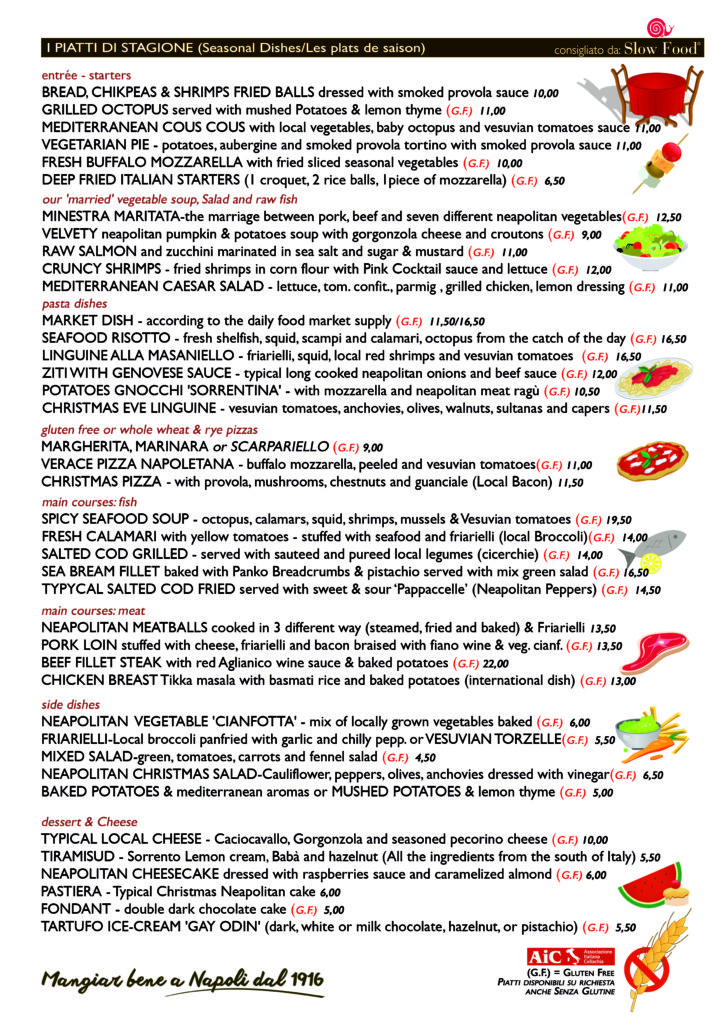 Our way to prepare Linguine alla Natalina
Tags: