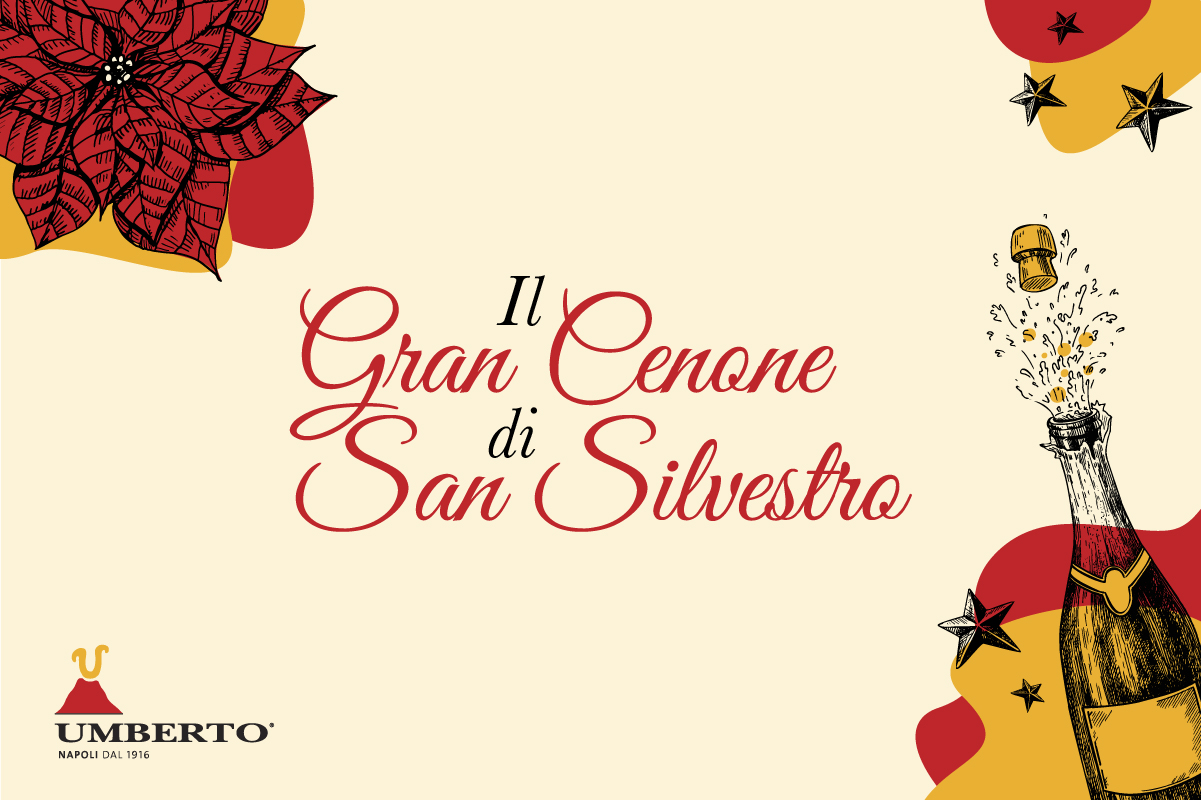 November 16th, 2021
Posted by UmbRist16
News
0 thoughts on "What's going on at Umberto's for New year's eve dinner? Find it out!"
Appointment at 8.30 pm at Umberto! The menu will be the traditional and typical of the New Year's Eve dinner, accompanied by excellent wines from Campania and the Neapolitan "posteggia" with guitar and mandolin with classical and traditional Neapolitan folk songs.
Menu of New Year's Eve dinner 31/12/21 (€ 140,00)
Grated cuttlefish with lemon flavoured buffalo ricotta cheese and  lightly fried balls of chickpeas, shrimps and bread served  with pink cocktail sauce;
Handmade flat paccheri pasta served with squid, local red shrimps, vesuvian tomatoes and local broccoli;
Seafood risotto – fresh shellfish, calamari & octopus from the catch of the day;
Sea bream fillet baked with lemon, thyme and green olives served with mushed potatoes & curcuma.
Dark choccolate cake of New Year's eve
And after midnight…
Typical new year Soup dated '600 – Lentils and pork cotechino
Aperitivo Spritz – Fiano di Avellino Docg Terredora – Italian Spumante
The price of the dinner is € 130,00 per person including Drinks.
The Menù for children will be served at € 80,00 per kids
Parma ham and Buffalo mozzarella
Handmade flat paccheri pasta Sorrentina Style (with mozzarella and Ragù sauce)
Seafood risotto – fresh shellfish, calamari & octopus from the catch of the day.
Neapolitan meatballs served with meat ragu' sauce and French Fries
Dark Choccolare and almond 'Caprese'
At the end of the dinner we suggest you go enjoy the wonderful firework show that starts around 1,00 a.m. along the seafront in Via Caracciolo, two hundred meters from Umberto.
How to book for the new year's eve dinner:
To book the table, 30% of the total amount of the dinner must be paid in advance. The deposit can be made through bank transfer on our current account BNL Paribas Agenzia 7 of Naples, Piazza dei Martiri:
Umberto S.a.s. – Ristorante Umberto
IBAN: IT 17 I 01005 03407 000000003326 SWIFT BIC: BNL I I TRR.
It is possible to pay the whole dinner also through Nexi link: we send you
a link for secure payment by credit card.