This year the summer just had a hard time arriving, but after a May and a rainy June, here it is that it reveals itself with an unexpected heat wave that leaves us a bit perplexed but that can only push us towards the beautiful things that arrival of summer entails.
Walking along the beautiful Naples, to discover architectural beauty, landscape, and more. Do we want to talk about the kitchen, for example?
Milestone of a culture that has its roots in a broader context that tells the story of its people. A commitment that Umberto Ristorante respects every day proposing traditional dishes, with some flicker of creativity that does not hurt, but always remaining faithful to principles such as the seasonality of the products, the quality of the ingredients. Based on these principles, Umberto Ristorante offers its seasonal menu with typical summer ingredients. The green peppers, proposed in Pappardelle alongside provola, cherry tomatoes and Cacioricotta del Cilento, a tasty goat's cheese listed among the Slow Food Campanian principals.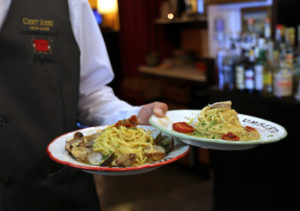 In the menu could not miss the Caprese surrounded by the delicious Tomatoes of Sorrento, tomato confit, oregano and Mozzarella di Bufala, famous product Dop from Campania. In this summer menu, seafood products typical of the Gulf of Naples could not fail to flake, such as the True Grilled Octopus, enriched with escaroles monachina, local endives stewed with black olives, capers and pine nuts, or the Grilled Squid, stuffed with breadcrumbs and olives with a Pomodori del Piennolo sauce, a revisitation of a poor dish typical of the coastal area of Campania. Among the seafood dishes offered we could not give space to the Scalded Cod with mashed cicerchie flegree with Mediterranean aromas (alla maruzzara), a poor dish for kings! As a seafood first course, Ristorante Umberto recommends Seafood Risotto with fresh catch of the day. Among the must of the tradition: Ziti spezzati alla Genovese Ramata and the typical Scialatelli (hand made neapolitan pasta) served with fresh zucchini  pesto, mussels, vesuvian tomatoes and shaved pecorino cheese.
For fans of meatballs, it is possible to taste the vegetarian version: Chickpea and Prawn Meatballs with Agerola Provola Fondue, or the classic Neapolitan Meatballs in three Cooking (fried, baked and steamed) accompanied by the legendary Neapolitan Eggplant Parmigiana. For a quick stop, instead, we offer a complete dish such as Tagliata di Manzo with rocket, cherry tomatoes and Parmesan flakes.
Among the pizzas on the menu could not miss the great classics such as Margherita and Marinara or summer proposals such as the Tre Pomodorini with yellow, red and confit tomatoes, a triad of taste completed by the excellent Provolone del Monaco of the Lattari Mountains and Provola di Agerola , or the Crudo, Rucola and Scaglie di Parmigiano pizza. Before leaving the Umberto Restaurant it is not possible to give up a bit of sweetness, so we offer you our Summer Watermelon or the Percocata, the cake with ricotta and Neapolitan peaches (here we call them: Percoche).
We are waiting for you at Umberto Ristorante for a breath of summer tradition!

MENU_UMBERTO_AGOSTO_2019_INGLESE-1


Tags: