Spring came from Umberto, the scent of the sea mingles on the ground, the days are getting longer and Naples is dressed in flowers and many colors. Check out our new spring menu!
Finally the Spring has arrived and from Umberto we have decided to put aside the old winter menu and introduce all dishes that most speak to us about the Neapolitan spring: its fragrances, its fresh flavors and of course the calls that come from the sea become much more present.
For April, Umberto does not lack the strong flavors of Pappardelle with Ragù di Agnello and the Pasqualino appetizer also called "la fellata".
Among the fish dishes that speak of spring we have as a starter the salmon tartare and first the timeless Risotto alla Pescatora and for the second we cannot fail to mention the squid stuffed with "friarielli" and Provola of Agerola (a typical Neapolitan cheese), with tomato sauce and our Cassuoletta of Sea.
Among the main dishes of our spring menu there is certainly the Filetto di Manzo, which is served with Aglianico, black pepper and with a side of rosemary potatoes and baked au gratin: this dish embodies the freshness of flavors and well represents a promise of the coming summer. Also not to be missed is the Baked Lamb served with potatoes.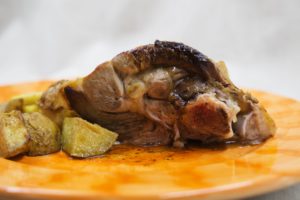 Finally, to sharpen this sense of freshness, lightness, that only spring can give us, Umberto 1916 chose to serve its delicious Pastiera and its Nero Napoletano, the Fondant with dark chocolate cream, as dessert.
Discover the new Umberto spring menu

Tags: