Dear friends, October is a month of renewal for Umberto 1916. Our Centenary Restaurant is located in the pulsating heart of the Chiaia, and our restaurant varies its seasonal menu, and it is finally time to put aside the summer menu and enjoy the new autumn menu!
Before introducing the new features of the autumn menu, we want to immediately point out a great novelty: from Umberto, in aperitif you can choose between four cocktails of Italian culture! Spritz, Negroni, Gin Tonic, Martini Bianco Royale … you are spoiled for choice, for a really happy hour with the bows.
The novelties of the autumn menu of Umberto 1916 in the sign of the Slow Food snail
The change in the menu fo us is not a habit, but for a hundred years, this restaurant changes its menu based on the alternation of the seasons. And it is thanks to the love that we put in the choice of seasonal ingredients.For this reason, Umberto 1916 was able to conquer this year, for the fourth consecutive time, the recognition of Slow Food snail. And for this occasion in the new seasonal menu we decided to report to our guests, the slow food ingredients that Umberto 1916 uses in the creation of its dishes: for this reason at the end of each dish made with these ingredients you will find the very famous red snail icon of Slow Food.
In autumn, different seasonal vegetables like friarielli and escarole come back to our tables!
We, therefore, welcome the Friariellis that are in the Paccheri Tricolore , which are accompanied by the yellow 'piennolo' tomatoes, a typical variety of tomatoes in Campania. Among the first of the tradition we can not fail to mention our Linguine with colatura di alici of Cetara (Slow Food Presidium), or our gnocchi's potatoes with 'scarpariello', with plenty of fresh tomatoes and confit and a generous sprinkling of Cacioricotta del Cilento (Slow Food Presidium) and pepper. For the most insatiable gourmands, instead, our Ziti is waiting for you, broken up in Genovese 'ramata', made with coppery onions from Montoro, a Slow Food Presidium from Avellino.
And if you do not want to eat pasta, well you could always opt for the tasty soup made with Controne beans (Slow Food Presidium), an evergreen with typical Mediterranean flavors.
For fish lovers, we cannot recommend our scalded cod on purée of cicerchie Flegree (another Slow Food Presidium of Campi Flegrei) to the 'maruzzara', or our beloved squid stuffed with broccoli, provola and golden tomatoes of the Vesuvius.
On the other hand, if you do not want either first or second course, we recommend our typically autumn pizza – and why not, even in winter – or the Alternative Pizza: made with Bio dough and garnished with escarole and anchovies of Menaica (Slow Food Presidium) and provola d'Agerola DOC.
And finally, for dessert if you really do not want to give space to our timeless Tiramisud , or you could taste our Creme Caramel Traditional , made with orange caramel. Bon Appétit!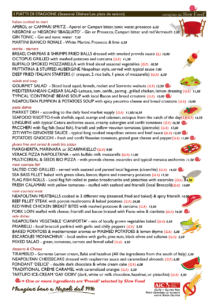 Tags: