Summer Menu: the summer is coming and everybody wants to eat fresh dishes not heavy.
Seasonal ingredient are used by our chefs: Mediterranean cous cous with vegetables and octopus, seafood fresh caponata, caprese salad with Sorrento tomatoes and buffalo milk mozzarella, mediterranean caesar salad between starters and summer salad! Pasta will be hand made scialatelli with zucchini pesto, mussels and pecorino cheese, seafood risotto, potatoes gnocchi with seasonal green peppers and Spaghettoni allo Scarpariello, with vesuvian tomatoes, parmigiano and black pepper. As main we suggest spicy seafood soup, salted cod, fresh sword fish, Typical neapolitan meatloaf or chicken breast with smoked provola and cherry tomatoes. You should conclude the meal with Tiramisud (our speciality, all made with ingredients from the South of Italy), percocata with fresh buffalo cream and neapolitan Yellow peaches, or panna cotta. Ice cream tartufo could be also a very good choice!!
Here is the summer menu!
Come and enjoy!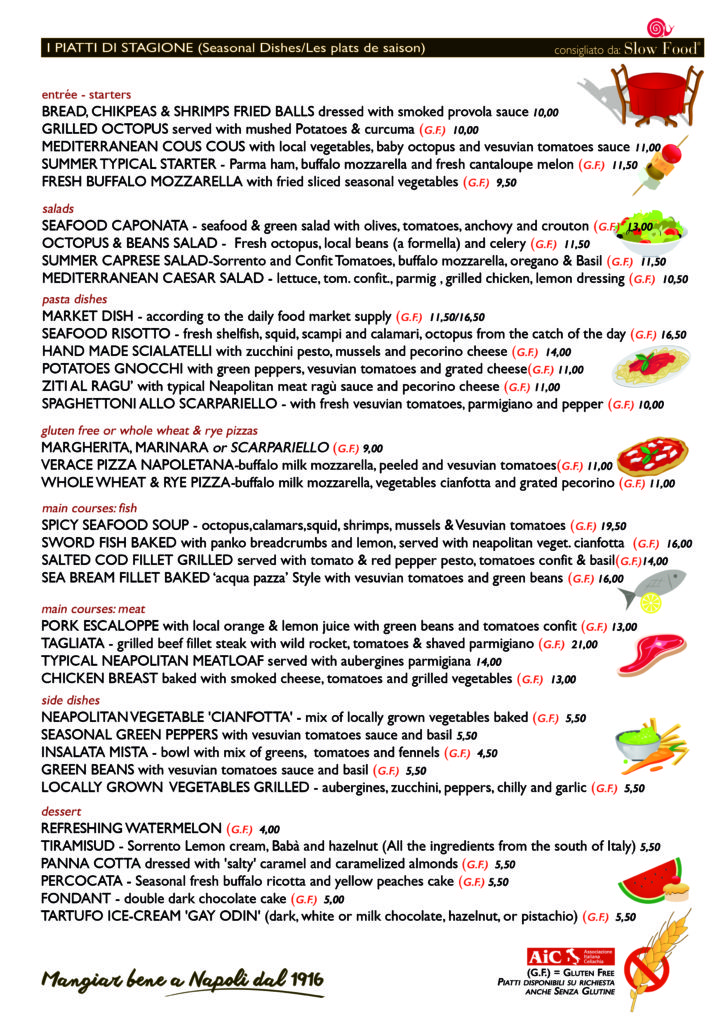 Tags: